Budapest LAB – Office for Entrepreneurship Development (Budapest LAB // LAB) is the first centre of excellence established by BBU. The goals set by Budapest LAB are to boost initiatives to establish business and to develop entrepreneurial attitudes; to support and foster Hungarian SMSs by creating and equipping them with a necessary knowledge base; and – in the long run – to become a well-known research, development, training and knowledge centre of entrepreneurship development in the Central European region.
The Budapest LAB team is working to develop entrepreneurial willingness and to provide knowledge and inspiration about entrepreneurship both to entrepreneurs and to those planning to start a business, and above all to the University's internal community on as many platforms and in as many forms as possible. It also aims to show the outside world what's going on at BBU in entrepreneurship development.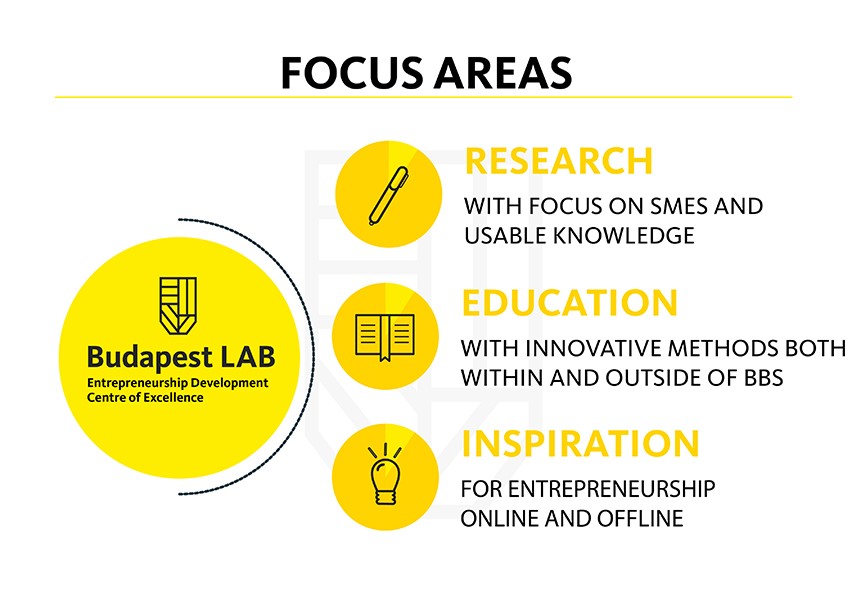 Scientific achievements and social impact
Scientific publications and research results are be publicly available to all interested parties HERE.
Studies related to current research can be read even before their publication HERE, in the BBU Budapest LAB Academic Paper Series.
The results of the researches are used by the government as well as the enterprises. An important result was that scientific analysis was integrated into the SME strategy.
The articles and research results of the LAB are also regularly published by the media - thus the knowledge from the research reaches even more those who are concerned. Click HERE for more.
The Budapest LAB's annual reports not only provide useful content, but also make it easier for other actors in the ecosystem to connect.