Interview with IT Director Levente Csöregi
"I am motivated by the multitude and diversity of the tasks before us," says Levente Csöregi, the Director of the IT Directorate, who was appointed in August of last year. Read our interview with him, in which we also discuss his future plans, motivations and hobbies.
You joined the BBS team at the end of last August. Have you managed to fit in? How do you feel?
I think that I have managed to fit in, but it is also true that there are still areas whose operations I have not have the opportunity to learn about, but I will make up for this in the near future. At any rate, I feel great. Everyone is very direct and helpful. I have inherited a great team, and we are looking forward to tackling the tasks ahead of us, of which there are many!
Before BBS, you worked in several sectors as an IT Manager. How different is the field of higher education?
I can consider myself lucky because I have gained experience in several areas during my career: car manufacturing, wholesale, retail, logistics, transport, banks, and insurance. As in all these previous cases, higher education is also a new field, but there was one thing they all had in common- IT services had to be, and should be provided with the best possible quality. Of course the environment, people, and processes are different here, but the goal is the same.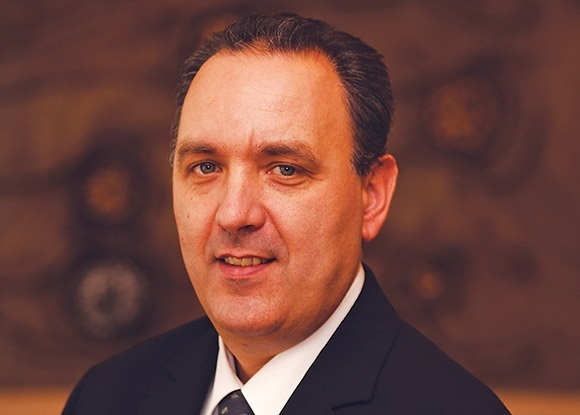 Changes have also taken place in the IT Directorate in the recent past. Can you tell me a little bit about that? About the team, your operations, what's new...
Just before I arrived, IT was centralised. Colleagues work in 3 main groups: educational technology operations, application operations, and infrastructure operations. In addition, we will have many more tasks, for which we will need to bring in resources and competence, so that we can manage projects, make improvements, and expand the range of our services. A very important internal transfer of knowledge has taken place during the past months in order to bring the degree of IT knowledge of all colleagues working at the three Faculties to the same level.
In the first round, we did this in the field of servers and applications, but of course we will continue on all other professional levels as well.
We are also working on our internal processes so that our reaction time is shortened, and information reaches the appropriate colleagues as quickly as possible. Cooperation is closer than ever, both at the management level and between the center and Faculties, and we are developing this even further. We are not only working on cooperation within IT, as we have also regularised discussions and consultations with partner areas. We worked together to define this year's plans and I am confident that we will learn the new procurement processes quickly and that all will also go smoothly. In addition to ensuring reliable day-to-day operations, which is no small task, we are putting more and more emphasis on how Information Technology can support the operation of the academic field, and with what technological solutions it can help and develop that area.
The new laptops were recently distributed to the employees. In addition, what IT developments can be expected in the near future with respect to the staff and in the area of education/teaching?
We have a lot of tasks ahead of us. There are plans that I have expressed to target the operation of IT, but there are even more tasks that are meant to support the operation of the University as a whole, either regarding the staff or the faculty. There are also specifically technological projects. This is the case with laptops, but there are plans to improve the equipment of the classrooms, replace the projectors, and what will be an even bigger innovation on the education side is the introduction of technology that supports hybrid education. We will equip a few rooms in each Faculty where we can experience this in practice. In addition to the use of interactive whiteboards, it will be possible to hold both face-to-face and online teaching at the same time.
In addition to technology, there are also plans in the area of systems and applications. We would like to introduce a BBS mobile application this year, which will initially be designed to help the students' daily lives, but of course we would like to expand this in the longer term. We are also working to have a system available to support everyday decisions and data services with data visualisation solutions. In the name of sustainability, we want to digitise and automate as many of our processes as possible, and we strive to eliminate paper, as well as to introduce electronic and digital signatures as widely as possible.
What motivates you and how do you motivate your team?
I am motivated by the multitude and diversity of the tasks ahead of us. Fortunately, I am certain that together with my team, these are feasible and the possibility of success stands before us. Wherever I worked, there were always difficulties. They exist here too, but I believe that if someone "wants it", then success can be guaranteed. We are working to ensure that our results are received with satisfaction both on the academic side and on the support side, and that is enough for me. I would also like to ensure that my enthusiasm is transferred to my team, thereby guaranteeing that success will be a certainty. I try to give and show clear and understandable directions to my colleagues, and to involve them in the work and in the decisions. If there is mutual trust and support, then the atmosphere is good. And if the atmosphere is good, then the work is also good, even if there are a few difficult days.
How do you like to spend your free time?

I have a nice big family and even if already a few of them have left the nest, every moment we can spend together is good. I like being active around the house and gardening, despite the fact that I am not the master of masters.
What shapes the whole family's way of life for the most part are horses. We have our own horses, with whom there is constant work to be done: training, competitions, grooming, and sometimes the "dirty" work (i.e.: fertilising.) I've only been doing this as a hobby for 12 years now, but it gives me energy that I haven't discovered in anything else. In addition, it is also very good for children to cheer from the sidelines during competitions.